Proximity Booster – get found locally faster
Proximity Booster optimises the power of Google Business Profile to help your business get found faster in local searches.
Through the use of researched keywords and relevant locations, many tailored landing pages are created to scale up the findability of your business. Instead of relying on your website alone, you can have many landing pages funnelling pre-qualified enquiries from local potential customers.
Your business is also listed in a number of the leading business directories with the correct details as listed in Google Business Profile. Regular posts are also made to Google Business Profile to optimise this most important feed.
There are plans available to suit your local business. The size of the plan will be set by the amount of boost you want to give your business in your proximity.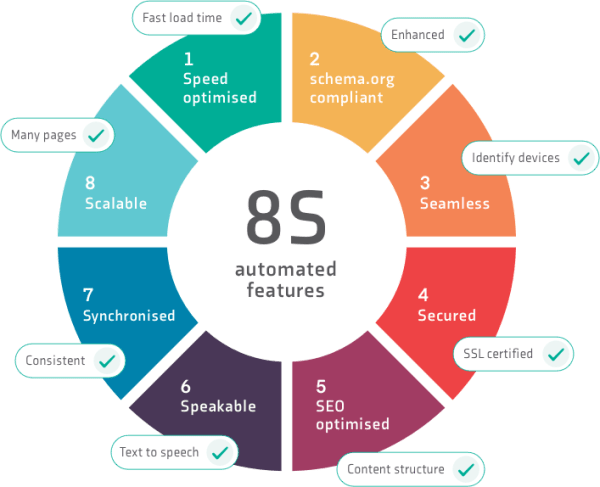 8 technologies that power Proximity Booster
Proximity Booster is powered by the 8S automated features. These are proven technologies and the big advantage of Proximity Booster is that each has been automated in the delivery of the many targeted landing pages.
Even if you fully understand the technology of each of these features and can "hand code" them, Proximity Booster will relieve you of the tiresome work.
Let's briefly look at the benefits that each of these technologies can bring to your business.
1 – Speed Optimised
Site speed is one of the core factors used by Google's algorithm to rank pages. Speed is key because longer load times result in higher bounce rates and lower average time on page. Our products are Speed optimized for blazing fast load times (0.5 seconds) with proprietary server-side parallel processing.
2 – Schema.org
Schema is used by developers to structure metadata on the website so that search engines can understand the content published on the page. Our webpages are Schema.org compliant and enhanced. Each page contains the essential Schema that Google loves to index, rank and serve.
3 – Seamless
Google rolled out the mobile-friendly algorithm, meaning that website content must be formatted properly for any device accessing it. Our solutions are completely Seamless, and render content perfectly regardless of device. We developed patented technology to identify the device and serve content both adaptively and responsively.
4 – Secured
SSL certificates are a security measure for websites. Google's algorithm looks for websites using SSL certificates as a factor of their 'trustworthiness. Each page is Secured with the most up to date SSL protocols and certificates hosted and managed on Amazon Web Services.
5 – Structure
Onpage SEO, offpage SEO, and technical SEO all play an important role in how robots find, read, and serve content across web, mobile and voice search. We automatically SEO optimize the content structure, and reference each page with the world's most powerful sites like Wikipedia.
6 – Speakable
Every landing page is coded with the new Speakable Schema that allows your business to be found and read by the text-to-speech (TTS) technologies included in many smart phones and other devices. These technologies will become increasing popular in the future. Stay ahead of the technology with Proximity Booster.
7 – Synchronised
It is critically important that your business is consistent right across the internet. Even small variations in data such as business name, address, phone and opening hours create uncertainty with the search engines. Proximity Booster lists your business with many of the top business directories using consistent data drawn from a single API / dataset. These perfectly synchronised citations help to increase the trustworthiness of your brand.
8 – Scalable
Every page on a website must be properly optimized with key factors to ensure their best chance to rank for web, mobile and voice search. Our solutions are infinitely scalable – we can create hundreds-of-thousands of pages to any custom template. Then we programmatically update content on these pages and develop new widgets & features to push to them all at once.